ENTERPRISE BOTTLING WORKS WEISS BIER
Embossed Bottles
BEER BOTTLER NOT A HARRISBURG BREWERY
1 Variations Shown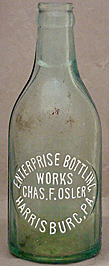 #1
Aqua
Pony
Squat
Tooled Crown
Plate Mold

"WEISS // BIER // REGISTERED 1885" (peened out) on back

"250" on base



Mouse pointer over image shows back



Search Keys: CHAS. F. OSLER

Embossing is highlighted

Beer.Bottle.Library

Note: The mold for the embossing on the back side of this bottle was peened out. All the wording on the back side is barely legible dimpling. Until an embossed example is found this will have to suffice.